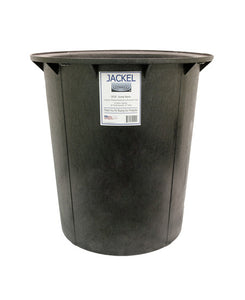 Jackel Sump Basin (18" x 22" - 20 Gallon)
For sump applications, this basin is designed to hold a sump pump. It is ideal for basement applications where a submersible or pedestal sump pump is required. The single piece basin is injection molded structural foam polyethylene and provides superior structural toughness and reliability. The rim of the basin includes pre-drilled holes with metal inserts to accept the mounting and securing of a cover. The ultra-strong reinforced bottom will not buckle, deform or puncture, even under the harshest soil or ground water conditions. 
Features and Benefits
Heavy duty structural foam injection molded construction
Cover mounting metal inserts included on basin
Ultra strong, reinforced bottom will not flex
Gas and Radon tight; Odor free
Specifications:
Size: 18" x 22"
Capacity: 20 Gallons
Material: Injection Molded Polyethylene Structural Foam
---